Video Art, Paintings, Ethnographic Films, Per Salsa Ricevuta
Timisoara, Helios Gallery (2-16 November 2017)
DIPLOMATIC ART 2017, 3rd edition
CASA E TRASLOCO / HOME AND RESETTLEMENT (Maria Orosan-Telea, curator)
The Diplomatic Art exhibition series that started in 2014 continues with the 2017-2018 edition, including several events dedicated to Italy (which opened the first consulate in Timisoara, in 1922). The first phase of the project took place in July 2017 – a study-tour conducted by the Prin Banat Association with the anthropologist Francesco Marano (Università degli Studi della Basilicata, Matera) and the artist Sandro Bracchitta (Accademia di Belli Arti, Palermo) on a route described by Francesco Griselini in his book Attempt of Political and Natural History of Timisoara's Banat. The two residencies offered by the Honorary Consulate of Italy in Timisoara, at the proposal of the Diplomatic Art Association, were occasioned by the 300th anniversary of Francesco Griselini's birth.
Francesco Marano proposes a participatory artistic project documenting a custom specific to Southern Italy, namely to send parcels with home-made food to the children who left to study elsewhere. Food becomes, in this case, an attribute of the family environment, the feeling of safety and well-being granted by their parents' home. In addition, the exhibition will include other documentary films based on Marano's anthropological research which evoke the deep connection of people to the places where they were born and where they live for a lifetime.
The exhibitions will be followed by meetings of the two Italian guests with students of the West University Timisoara.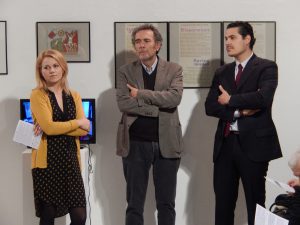 Maria Ososan Telea (curatrice), Niccolò Maso (Console Onorario Italiano a Timisoara), Francesco Marano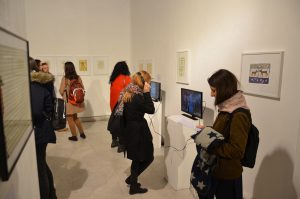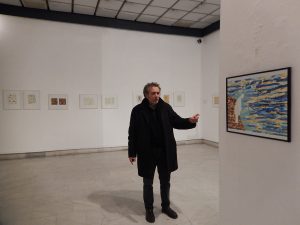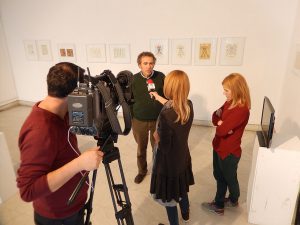 La TVR, televisione nazionale rumena, intervista Francesco Marano